Peptide Sciences Blog
ARA-290 is derived from EPO, preserving its healing effects without creating red blood cells.

"Erythropoietin (EPO) is a cytokine that regulates hematopoiesis mediated by its binding to the erythropoietin receptor (EPOR), that is present also in non-erythroid tissues, including pancreatic islets. In addition to its hematopoietic action, EPO has been shown to exert anti-inflammatory, anti-apoptotic and cytoprotective effects in a wide variety of cell types by binding to the innate repair receptor (IRR) which is a heteromer of EPOR and CD131, the β common receptor. EPO treatment has been shown to protect against diabetes development in streptozotocin-induced and db/db mouse models of type 1 and type 2 diabetes, respectively, while exerting anti-apoptotic, anti-inflammatory, proliferative and angiogenic effects within the islets." (4)
"Since prolonged treatment with EPO can increase the hematocrit and provoke thrombosis, we have studied an EPO analogue, ARA290. This 11 amino acid peptide lacks hematopoietic action, binds to the IRR and protects a number of tissues in response to injury. A recent phase 2 clinical trial evaluating ARA290 in patients with type 2 diabetes and painful neuropathy showed that ARA290 significantly reduced HbA1c levels as well as neuropathic symptoms." (4)
Regenerates Myelin (The Protective Sheeth Around Nerves) and Reduces Inflammation of Nerve in Neuritis Disease.

"ARA 290 intervention suppressed demyelination and promoted remyelination of sciatic nerves" (12)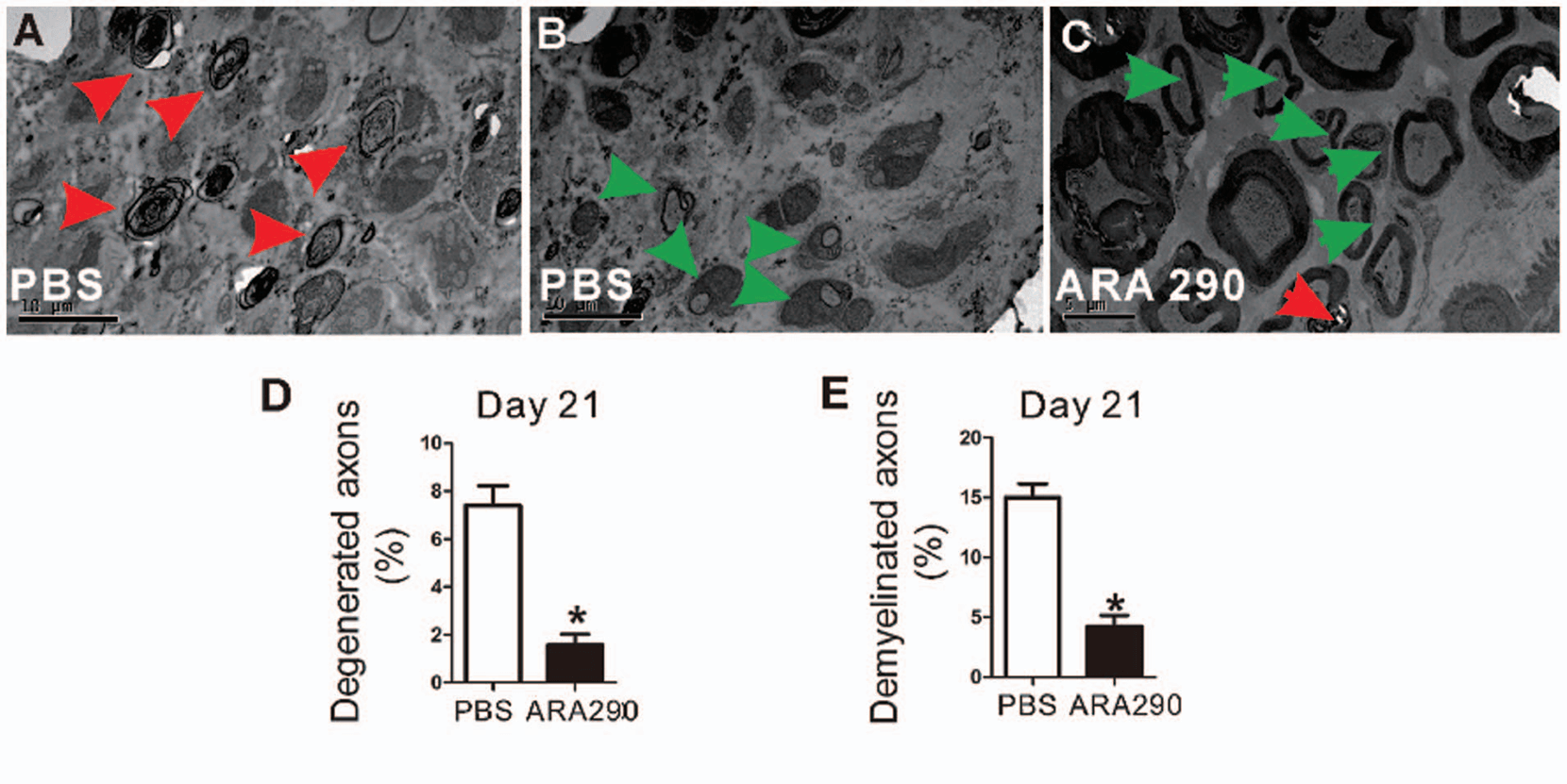 "ARA 290 exerted direct proliferation promotion and anti-inflammatory effects on Schwann cells." (12)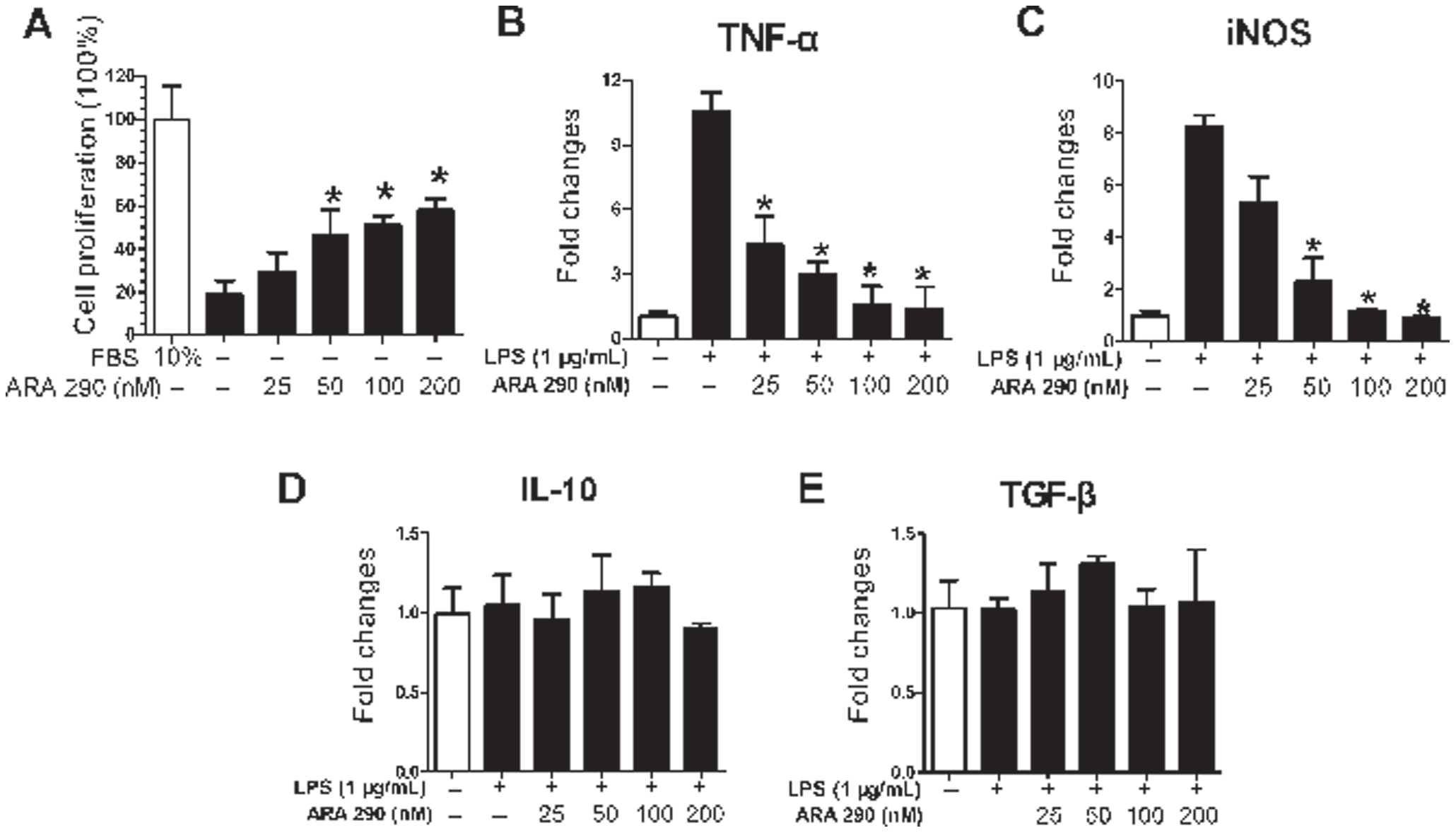 Innate repair receptor (IRR) required for regenerative effects of ARA-290 on neuropathy
"The innate repair receptor (IRR) is a heteromer of the erythropoietin receptor and the b-common (CD131) receptor, which simultaneously activates anti-inflammatory and tissue repair pathways. Experimental data suggest that after peripheral nerve injury, the IRR is upregulated in the spinal cord and modulates the neurogenic inflammatory response. The recently introduced selective IRR agonist ARA290 is an 11-amino acid peptide initially tested in animal models of neuropathy. After sciatic nerve injury, ARA290 produced a rapid and long-term relief of mechanical and cold allodynia in normal mice, but not in animals with a b-common receptor knockout phenotype." (5)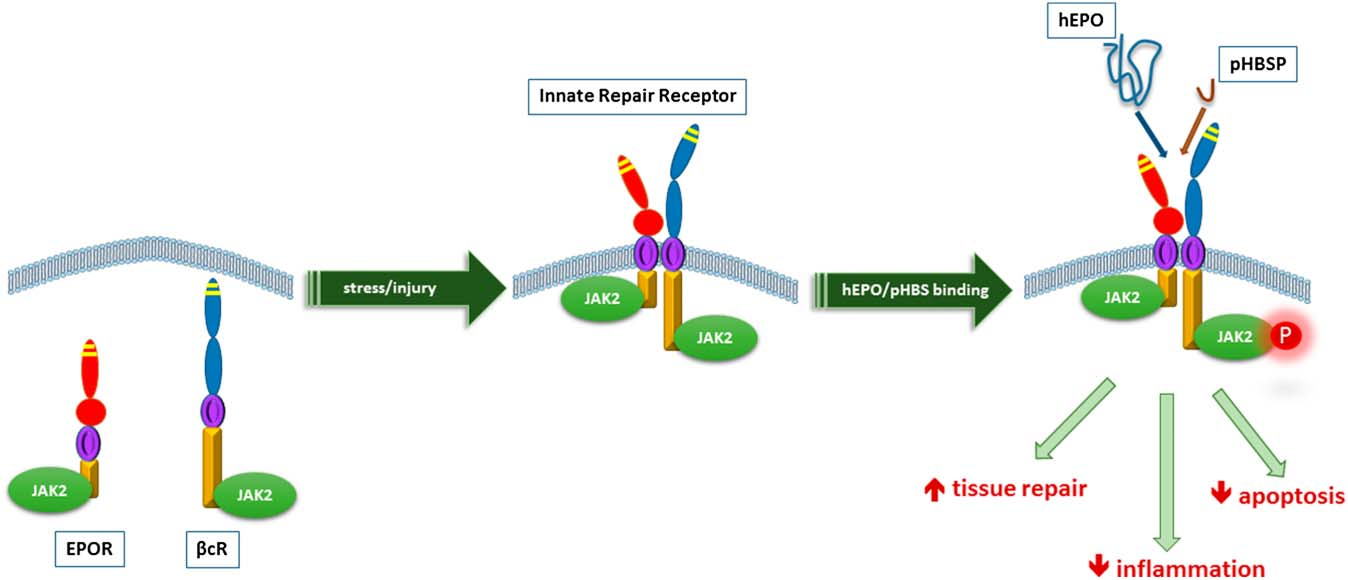 "Forty-eight T2D patients with moderate to severe SFN-induced chronic pain were treated with daily subcutaneous injections of ARA290 4 mg or placebo for 28 days. The results of the trial were similar to those obtained earlier in sarcoidosis patients with improvements in neuropathic symptoms, an increase in CNFD in patients with an initial reduction in CNFD."
"Despite a large reduction of allodynia maintained during the intensive treatment period, a slow trend toward an increase in pain behavior was observed during the weekly ARA 290 dosing paradigm. This observation could suggest that because of the biologic half-life of ARA290 of less than 1 week, more frequent dosing could prevent the trend for increased pain. An alternative explanation could be that noninflammatory processes slowly develop to foster proallodynic responses and gain in importance over time or that the inflammatory response becomes more resilient. If true, this suggests that treatment of neuropathic pain caused by nerve injury should be aimed at targeting multiple processes, of which suppression of the immune response is one that requires early (and continuous) treatment. It is not likely that decreasing the interval between nerve injury and the initiation of treatment or using ARA290 as a preemptive measure results in a more effective relief of neuropathic pain because the EPOR-cR complex is being up-regulated secondary to tissue damage. Alternatively, more intense treatment during the initial phase (e.g., higher doses or injections at a 1-day interval) may be more effective in neutralizing the initial hit induced by the peripheral nerve injury." (7)
3"Innate repair receptor activation reduces mechanical allodynia after spared nerve injury (SNI) in the rat. Animals were sham operated (blue) or received SNI and vehicle (grey) or SNI and 60 mg/kg ARA290 (red), both administered on days 1, 3, 6, 8, and 10 postsurgery..." (5)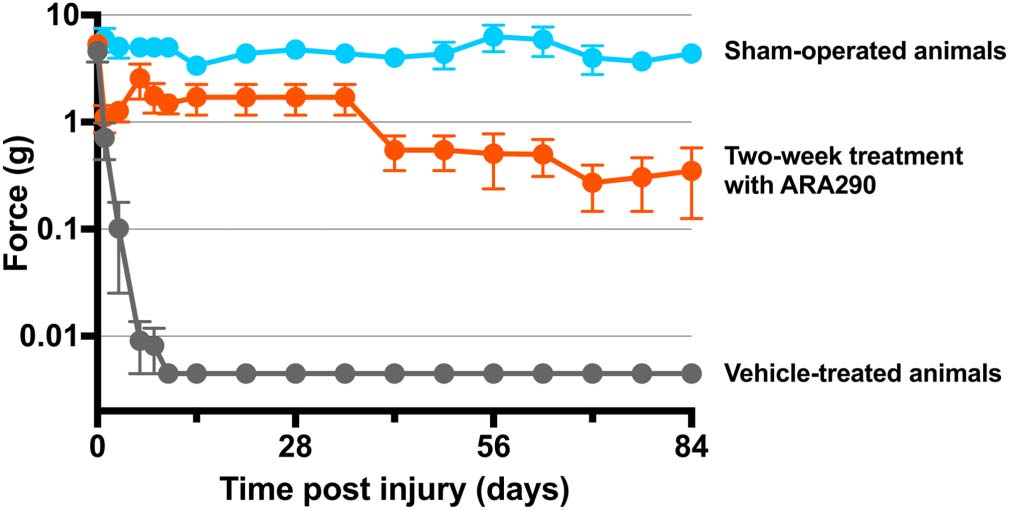 "In patients with sarcoidosis, ARA290 significantly improved neuropathic and autonomic symptoms, as well as quality of life as assessed by the small fiber neuropathy screening list questionnaire. In addition, ARA290 treatment for 28 days initiated a regrowth of small nerve fibers in the cornea, but not in the epidermis." (5) "The results of the NERVARA trial indicate a significant increase in corneal nerve fiber area by 14% within the 4-week treatment period (relative to a small decrease after placebo treatment) without affecting proximal and distal limb intraepidermal nerve fiber densities.16 These data are important for 2 reasons. First, ARA290 initiates a rapid regrowth of small nerve fibers in the cornea, which is a sign of tissue healing and restoration as earlier observed in experimental studies… the corneal nerve fibers seem to be more sensitive to regeneration than skin fibers, and consequently, the cornea is the more appropriate location to assess not only the state of small fiber pathology but also assess the effect of treatment."