Product Usage:
THIS PRODUCT IS INTENDED AS A RESEARCH CHEMICAL ONLY. This designation allows the use of research chemicals strictly for in vitro testing and laboratory experimentation only. All product information available on this website is for educational purposes only. Bodily introduction of any kind into humans or animals is strictly forbidden by law. This product should only be handled by licensed, qualified professionals. This product is not a drug, food, or cosmetic and may not be misbranded, misused or mislabled as a drug, food or cosmetic.
---
What Is Triptorelin (GnRH)?
Triptorelin is a gonadotropin releasing hormone analogue that has been used in the clinical setting to treat advanced prostate cancer as part of a multi-faceted approach to androgen deprivation therapy. Similar to luteinizing hormone releasing hormone, triptorelin is a potent inhibitor of testosterone and estrogen synthesis when given in long-term, continuous dosing. In the UK, triptorelin is used to suppress testosterone and estrogen synthesis in transgender people. The peptide has also found application in the treatment of hormone-receptor positive breast cancer in premenopausal women.
---
Triptorelin Structure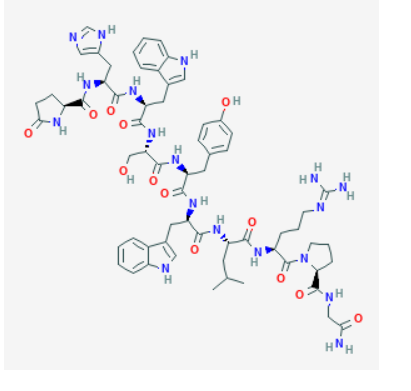 Source: PubChem
Sequence: Pyr-His-Trp-Ser-Tyr-D-Trp-Leu-Arg-Pro-Gly
Molecular Formula: C64H82N18O13
Molecular Weight: 1311.473 g/mol
PubChem CID: 25074470
CAS Number: 57773-63-4
Synonyms: Decapeptyl, TRP(6)-LHRH, Trelstar, Triptoreline, Decapeptyl, Gonapeptyl
Triptorelin Research
Triptorelin Restores Testosterone Secretion in Some Men
The way in which triptorelin is used can dramatically change the effects that the peptide has. Research has shown that triptorelin increases testosterone levels early during prolonged treatment regiments and only begins to suppress production after chronic exposure to the peptide. This is referred to as testosterone flare and is seen in the first few weeks of triptorelin treatment. This suggests that triptorelin may be useful in boosting testosterone levels in some men if administered with appropriate timing and in appropriate doses.
Triptorelin Administration Determines Effects
Triptorelin is an analogue of gonadotropin releasing hormone (GnRH). As such, it can stimulate the anterior pituitary gland to release follicle-stimulating hormone (FSH) and luteinizing hormone (LH). If given in a pulsatile manner, this is precisely what triptorelin does. Exact levels of FSH and LH depend on the size and frequency of GnRH pulses and thus on the size and frequency of triptorelin dosing. If, however, triptorelin is given in a steady-state format rather than in a pulsatile manner, it will eventually suppress LH and FSH secretion as well as the production of testosterone and estrogen. How triptorelin is administered in research settings will determine what its ultimate properties are.
The vast majority of research into triptorelin has focused on long-term, extended use of the peptide to suppress the production of sex hormones. Most of this research is geared toward oncology and the role of sex hormones in cancer progression. Recently, there has been some interest in using triptorelin to restore sexual function, fertility, and testosterone levels, but research is very preliminary.
Triptorelin Research and Breast Cancer
One of the mainstays of modern breast cancer treatment is to use hormone suppression to treat cancers that are sensitive to hormone levels. Currently, tamoxifen is the most commonly used medication in this class. Tamoxifen is a selective estrogen receptor modulator (SERM) used to both treat and prevent cancer in certain patients. Tamoxifen reduces the risk of breast cancer recurrence by about 40-50% in postmenopausal women and by 30-50% in premenopausal women. It has also been used to shrink tumors prior to surgery[]. Tamoxifen, while an outstanding option, is not without side effects and, over time, tumors become resistant to its effects. The search for alternatives and adjuvants to tamoxifen has led scientists to investigate the role of triptorelin in breast cancer.
A recent phase 3 clinical trial has revealed that triptorelin, when used in combination with zoledronic acid or letrozole, is more effective than tamoxifen in reducing disease-free 5- year survival rates in premenopausal women[2]. Similar research has found that adding triptorelin to tamoxifen in the treatment of early-stage breast cancer improves disease control and increases survival, particularly in high-risk patients who have already received chemotherapy[3]. The ability to boost efficacy and extend the benefits of hormone therapy in breast cancer treatment has made this area of triptorelin research particularly hot.
Triptorelin Is a Mainstay of Prostate Cancer Treatment
The primary use of triptorelin is in the treatment of prostate cancer where it acts to reduce growth by reducing testosterone levels. In the setting of hormone-sensitive prostate cancer, triptorelin reduces the 10-year mortality rate to less than 5%. It also reduces the need for surgical intervention[4]. Overall, triptorelin has allowed most men to live out the remainder of their lives despite a diagnosis of prostate cancer. Still, there is interest in extending the benefits of triptorelin by combing it with other treatment modality.
New research indicates that combining triptorelin with radiation therapy can provide the same benefits as total androgen blockade[5]. This may seem trivial, but total androgen blockade comes with a number of side effects that many men find intolerable. Reducing side effects while preserving efficacy, even if the difference is minimal, can improve quality of life and adherence to treatment.
Research also indicates that triptorelin can help to relieve the lower urinary tract symptoms of men with prostate cancer, reducing weekly frequency of severe symptoms from nearly 54% to 12%[6]. These study results have been confirmed by similar trials in China, Belgium, South Korea, and other locations[7]. These results indicate that triptorelin may also be useful in the treatment of benign prostatic hyperplasia and other conditions that interfere with urinary function in men. At the very least, triptorelin is able to relieve one of the most serious and life-altering symptoms of prostate cancer.
Triptorelin Protects Fertility
One of the side effects of chemotherapy, particularly when administered to younger individuals, is loss of fertility. A small clinical trial of triptorelin use in young women undergoing chemotherapy has revealed that the peptide can preserve fertility in a significant portion of patients[8]. Similar research has revealed that triptorelin can reduce the onset of early menopause in patients who have undergone chemotherapy by approximately 17%[9].
Triptorelin has benefits for fertility in a wide range of patients beyond just those receiving chemotherapy. Research in women with adenomyosis indicates that triptorelin therapy can increase rates of spontaneous pregnancy and improve outcomes in these disease itself[10]. Similar benefits have been seen in women with endometriosis.
Triptorelin Is Not Associated with Alzheimer's Disease
One of the known risk factors for Alzheimer's disease (AD) is female gender. Research has indicated that testosterone protects against the development of the disease while estrogen and progesterone appear to increase risk of developing AD. There was some concern, therefore, that undergoing androgen deprivation therapy could increase a man's risk of developing AD and early data seemed to support this theory. Subsequent research, however, has suggested that early studies were too simplistic and that androgen deprivation is likely not the causative agent. In fact, a large meta-analysis of the FDA's MedWatch adverse event data reporting system does not support the role of triptorelin in AD or cognitive dysfunction[11]. Scientists speculate that the side effects of having prostate cancer, particularly the impact of the diagnosis on mood and behavior, may have more to do with development of AD than androgen deprivation therapy. A verdict has not been reached on this matter, but the evidence is being to point away from androgen deprivation and toward other causes.
Triptorelin Research and Endometriosis
Research shows that triptorelin is beneficial in reducing pain in endometriosis. It does so by reducing the volume of nodules in the disease. There is some thought that this may also make triptorelin an effective pre-surgical treatment to reduce bleeding and other complications that are common in surgery for endometriosis[12]. Preliminary research suggests that triptorelin can improve outcomes of laparoscopic surgery for endometriosis. It is particularly effective in increasing pregnancy rates following surgery[13].
Triptorelin has been found to have profound effects in women suffering from colorectal endometriosis, reducing pain in nearly 80% of patients and diarrhea in nearly 60%. The trial lasted just three months. Extending triptorelin therapy could improve results. Triptorelin is not curative in endometriosis, but it does make the disease manageable. There is hope that future research on the peptide will reveal means by which endometriosis can be cured permanently.
Triptorelin Research and Immune Function
Research in rats indicates that LHRH directly modulates the thymus and thus controls a critical aspect of the immune system. Aging leads to a reduction in LHRH agonist binding sites on the thymus, which in turn leads to a 50% decrease in thymic mass over time. This, in turn, leads to age-related immune dysfunction, such as increased susceptibility to colds and the flu. Administration of an LHRH agonist, like triptorelin, has been shown to improve proliferation within the thymus and reverse the effects of aging to some extent[14]. There is some thought that triptorelin supplementation may help to prevent age-related changes in thymic mass and thus improve immune system performance. The peptide could be used in both a therapeutic manner and as a preventative.
Triptorelin exhibits moderate side effects, low oral and excellent subcutaneous bioavailability in mice. Per kg dosage in mice does not scale to humans. Triptorelin for sale at Peptide Sciences is limited to educational and scientific research only, not for human consumption. Only buy Triptorelin if you are a licensed researcher.
---
Article Author
The above literature was researched, edited and organized by Dr. Logan, M.D. Dr. Logan holds a doctorate degree from Case Western Reserve University School of Medicine and a B.S. in molecular biology.
---
Scientific Journal Author
Prof. Dr. Axel S. Merseburger is the chairman of the Department of Urology, Campus Lübeck, University Hospital Schleswig-Holstein, Germany. Professor Merseburger obtained his medical degree from Hannover Medical School in 2002 after a one-year academic research programme in Washington DC, USA, where he completed his MD thesis. In 2008, he accepted a staff position in Hannover and was promoted to associate professor in 2009; he obtained full professorship in 2012. Professor Merseburger is board certified in urology and is a member of numerous national and international urological and oncological associations. In addition to serving as a reviewer and member of the editorial board of many journals, Professor Merseburger is the associate editor of the World Journal of Urology and Editor-in-Chief of the "Advanced Prostate Cancer Resource Centre". Part of his studies pertained to the examination of Triptorelin's ability to induce androgen deprivation in order to treat prostate cancer. Furthermore, he is a member of the European Association of Urology (EAU) Guideline Groups on Renal Cell Cancer. He serves as national and international principal investigator in several phase II/III clinical trials. Professor Merseburger has won multiple awards, stipends and prizes for his molecular and clinical research and has authored and co-authored more that 200 publications.
Dr. Axel S. Merseburger is being referenced as one of the leading scientists involved in the research and development of Triptorelin. In no way is this doctor/scientist endorsing or advocating the purchase, sale, or use of this product for any reason. There is no affiliation or relationship, implied or otherwise, between Peptide Sciences and this doctor. The purpose of citing the doctor is to acknowledge, recognize, and credit the exhaustive research and development efforts conducted by the scientists studying this peptide. Dr. Axel S. Merseburger is listed in [4] under the referenced citations.
---
Referenced Citations
[1] "," Breastcancer.org. [Online]. Available: https://www.breastcancer.org/treatment/hormonal/serms/tamoxifen. [Accessed: 14-Jun-2019].
[2] F. Perrone et al., "Adjuvant zoledronic acid and letrozole plus ovarian function suppression in premenopausal breast cancer: HOBOE phase 3 randomised trial," Eur. J. Cancer Oxf. Engl. 1990, Jun. 2019.
[3] J. E. Frampton, "Triptorelin: A Review of its Use as an Adjuvant Anticancer Therapy in Early Breast Cancer," Drugs, vol. 77, no. 18, pp. 2037–2048, Dec. 2017.
[4] A. S. Merseburger and M. C. Hupe, "An Update on Triptorelin: Current Thinking on Androgen Deprivation Therapy for Prostate Cancer," Adv. Ther., vol. 33, pp. 1072–1093, 2016.
[5] G. Marvaso, A. Viola, C. Fodor, and B. A. Jereczek-Fossa, "Radiotherapy Plus Total Androgen Block Versus Radiotherapy Plus LHRH Analog Monotherapy for Non-metastatic Prostate Cancer," Anticancer Res., vol. 38, no. 5, pp. 3139–3143, 2018.
[6] K. Hachi et al., "[Study of the beneficial effects of triptorelin on lower urinary tract symptoms in Algeria in patients with non-localized prostate cancer]," Progres En Urol. J. Assoc. Francaise Urol. Soc. Francaise Urol., vol. 28, no. 8–9, pp. 450–459, Jun. 2018.
[7] T. Gil, F. Aoun, P. Cabri, P. Maisonobe, and R. van Velthoven, "A prospective, observational grouped analysis to evaluate the effect of triptorelin on lower urinary tract symptoms in patients with advanced prostate cancer," Ther. Adv. Urol., vol. 7, no. 3, pp. 116–124, Jun. 2015.
[8] M. Meli et al., "Triptorelin for Fertility Preservation in Adolescents Treated With Chemotherapy for Cancer," J. Pediatr. Hematol. Oncol., vol. 40, no. 4, pp. 269–276, 2018.
[9] L. Del Mastro et al., "Effect of the gonadotropin-releasing hormone analogue triptorelin on the occurrence of chemotherapy-induced early menopause in premenopausal women with breast cancer: a randomized trial," JAMA, vol. 306, no. 3, pp. 269–276, Jul. 2011.
[10] M. Xie, H. Yu, X. Zhang, W. Wang, and Y. Ren, "Elasticity of adenomyosis is increased after GnRHa therapy and is associated with spontaneous pregnancy in infertile patents," J. Gynecol. Obstet. Hum. Reprod., May 2019.
[11] S. Lehrer, P. H. Rheinstein, and K. E. Rosenzweig, "No Relationship of Anti-Androgens to Alzheimer's Disease or Cognitive Disorder in the MedWatch Database," J. Alzheimers Dis. Rep., vol. 2, no. 1, pp. 123–127, Jun. 2018.
[12] U. Leone Roberti Maggiore et al., "Triptorelin for the treatment of endometriosis," Expert Opin. Pharmacother., vol. 15, no. 8, pp. 1153–1179, Jun. 2014.
[13] H. Xue, M. Liu, W. Hao, and Y. Li, "Clinical evaluation of laparoscopic surgery combined with triptorelin acetate in patients with endometriosis and infertility," Pak. J. Med. Sci., vol. 34, no. 5, pp. 1064–1069, Oct. 2018.
[14] B. Marchetti et al., "Luteinizing hormone-releasing hormone (LHRH) agonist restoration of age-associated decline of thymus weight, thymic LHRH receptors, and thymocyte proliferative capacity," Endocrinology, vol. 125, no. 2, pp. 1037–1045, Aug. 1989.
---
ALL ARTICLES AND PRODUCT INFORMATION PROVIDED ON THIS WEBSITE ARE FOR INFORMATONAL AND EDUCATIONAL PURPOSES ONLY.
The products offered on this website are furnished for in-vitro studies only. In-vitro studies (Latin: in glass) are performed outside of the body. These products are not medicines or drugs and have not been approved by the FDA to prevent, treat or cure any medical condition, ailment or disease. Bodily introduction of any kind into humans or animals is strictly forbidden by law.